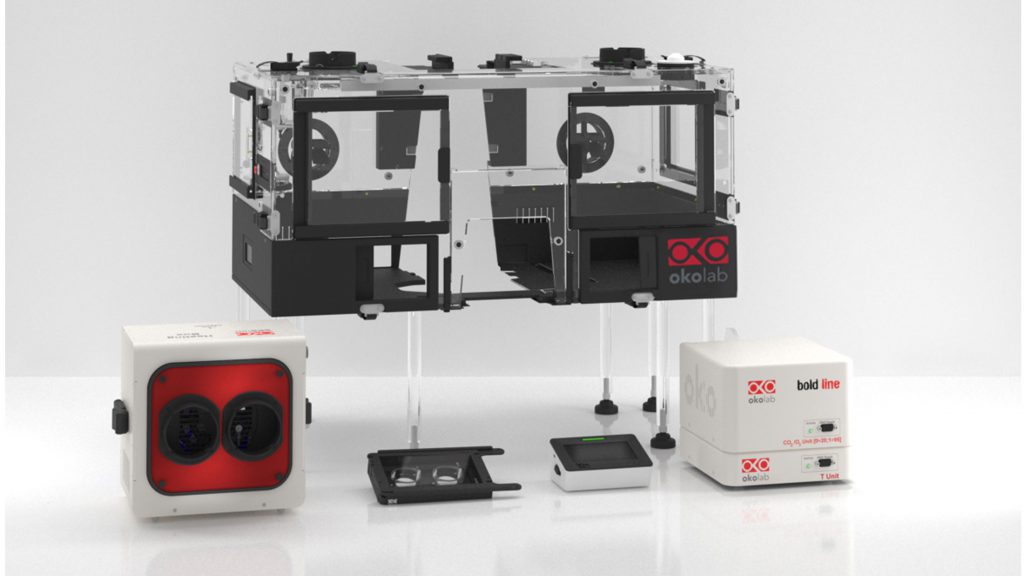 External Fan Heating Technology
The housing of the incubator creates a large volume around the microscope in which the temperature is controlled by circulating air.
Eigenschaften
Enclosure
The microscope enclosure creates a large volume around the microscope in which temperature is controlled by recirculating warm air. It is made of polycarbonate panels and encloses microscope stage, nosepiece and objectives. It doesn't affect focus stability. All electronics including EMCCDs, spinning disk confocal etc. are left outside of the enclosure avoiding exposure to 37°C.
The enclosure closely follows the microscope profile and is supported by posts resting on the vibration isolation table.
Custom design is possible, upon request.
Temperature Unit
Okolab Cage Incubator employs a Temperature Unit that generates warm air to raise the temperature inside the enclosure.
Superior accuracy is guaranteed by the interplay of four sensors: three for temperature and one for flow rate. The temperature sensors monitor temperature inside the enclosure, inside the Gas Micro-Environmental Chamber and inside the Air Heater. The flow rate sensor controls the rate at which warm air enters the enclosure and ensures smooth operation and fast heating. A proprietary smart algorithm determines the minimum flow rate necessary to maintain the controlled temperature at the set point value.
Okolab Cage Incubation System has both Enclosure (Chamber) Feedback mode as well as Sample Feedback mode as standard features. The end user can select the temperature sensor driving feedback to the controller.
GAS CHAMBER
The micro-environmental Gas Chamber fits on the microscope stage and hosts the sample. The Gas Chamber is located inside the enclosure and at the set point temperature – typically 37°C. The purpose for the Gas Chamber is to create a small volume surrounding the sample and containing humidified gas of the desired concentration.
When operating the Temperature Unit in Sample Feedback Mode, introduce the provided temperature sensor into the Gas Chamber through the temperature sensor port or through one of the built-in perfusion holes and position it in a reference well.
CO2 – O2 CONTROLLERS
The Bold Line Gas Controllers connect to the Temperature Controller via a cable-less connector and are operated through the same touch screen interface OKO-TOUCH.
CO2 and or O2 accuracy is ±0.1% with adjustable total output flow rate.
A vibration free humidity module is typically used with a Cage Incubation System. When Humidity control with feedback is required, the Active Humidity Controller can be connected to the Bold Line Gas Controller.
VIBRATION FREE HUMIDITY MODULE
The Cage Incubator can be equipped with a vibration-free gas humidifier which employes a semi-permeable membrane. Humidification occurs without bubbling to ensure vibration-free operation.
A water trap is located between the humidifier and the gas chamber preventing any water droplet from accidentally reaching the sample.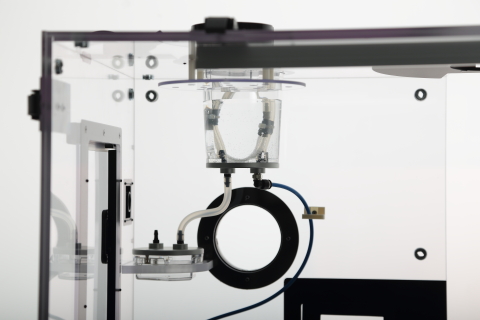 OKO-TOUCH
OKO-TOUCH is an intuitive and user-friendly touch screen interface. It connects to any one of the Bold Line Controllers, detects all equipment in the system and displays all functions supported by the equipment detected.
OKO-TOUCH features on-board memory for data logging and mini-USB port for data download.
In addition data logging is possible via SMART-BOX (that also allows remote control), via DATA-LOG Okolab software (that also allows to set enhanced thermal/gas cycles), and via following third-party Imaging software: LASX 2.0, NIS-Elements, SlideBook, MetaMorph and MicroManager. Macro for ZEN Black software is available upon request.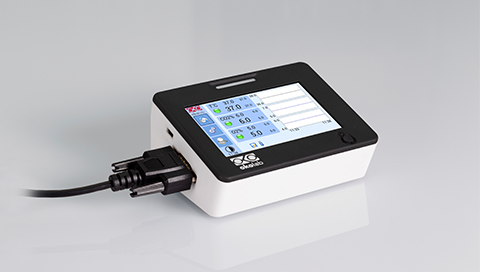 Spezifikationen
Enclosure:
Temperature range: from 3°C above ambient to 45°C
Temperature accuracy on sample: 0.1°C
TTL signal compatibility, upon request
Models for any inverted / upright microscope
Sliding doors on the front and side panels allow full and easy access to the microscope
Removable front panel with turn-to-open hinges
Optional black panels for imaging in dark environment- can be added at any time after purchase
An LED light with foot pedal and dimmer allows illumination inside the enclosure
Add a Micro – Environmental Chamber for Humidity and CO2 (and / or O2) control: models available for any XY stage and Piezo insert
CO2 (and / or O2) levels set with Digital (Bold Line) or Manual Gas Controllers
Gas Chamber:
Temperature range: from 3°C above ambient to 45°C
Temperature accuracy: 0.1°C
# 3 Temperature sensors: in the enclosure; in the gas chamber; inside the air heater
# 1 Flow rate sensor inside the air heater
Operated via touch screen interface OKO-TOUCH
Double air input and output ensures best temperature uniformity inside the enclosure
Low energy consumption thanks to warm air recirculation
Filtering Unit – Optional
Compatible with SMART BOX data logger – Optional
Integrated in third party software: Nikon NIS Elements; LASX 2.0; Metamorph; Micromanager
Order code: H201-T-UNIT-BL
TTL signal option order: H201-T-UNIT-BL-TTL
CO2 – O2 Controllers:
Chambers available for any stage brand/model including Z piezo and upright.
Magnetic inserts for Petri Dishes, Slides and Multi Well Plates
Magnetic locks hold Petri, Slides and Multi Well Plates in the correct position inside the chamber
Built-in Perfusion holes
Temperature sensor inlet port for sample feedback mode operation
Perfusion holes available for inlet and outlet of tubes
Sliding lid for easy access to the sample
Optional lids are available for Koehler Illumination, laser safety and injection during imaging
Dual gas chamber featuring two independent gas compartments for imaging under separate gas environments in the same experiment
CO2 accuracy: 0.1% (see Controller page for more info)
O2 accuracy: 0.1% (see Controller page for more info)
Touch Screen Interface – OKO-TOUCH
Output Flow Rate: adjustable from OKO-TOUCH
Compatible with Active Humidity Controller
Programmable CO2 (and /or) O2 cycles
Compatible with SMART BOX for data logging and remote operation – Optional
Data Logging via OKOLAB Data Log Software – Optional
Compatible with: NIS Elements, MetaMorph, Micromanager
TTL signal compatibility, upon request
Informieren Sie sich als Erster über alle neuen Produkte in unserem Sortiment und erfahren Sie die aktuellsten Forschungsergebnisse in der Mikroskopie in unserem monatlichen, kostenlosen Newsletter.