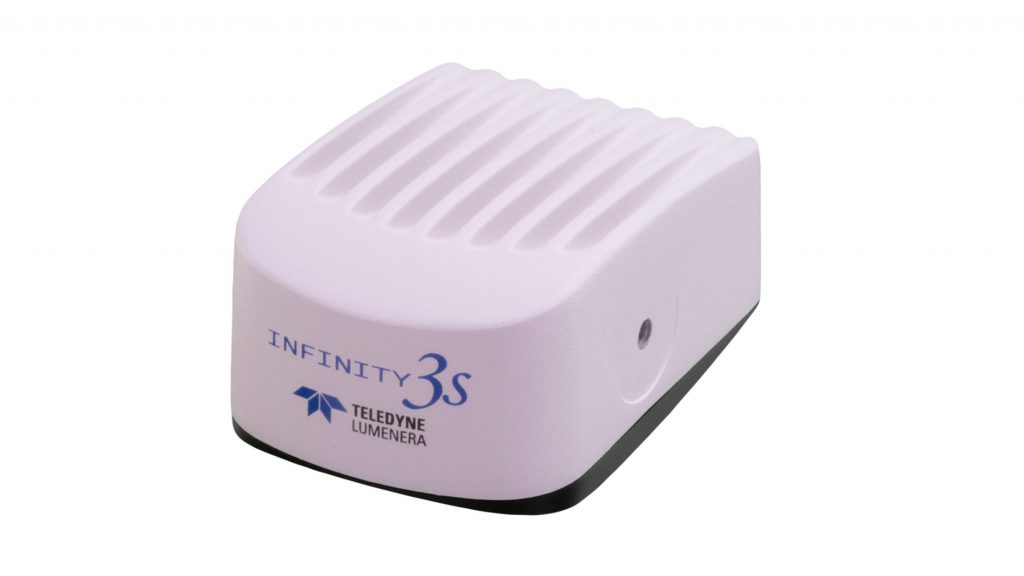 Lumenera's INFINITY3S-1UR is a high-speed, ultra-sensitive research grade microscopy camera with 1.4 megapixel resolution. The camera incorporates Sony's new ICX825 CCD sensor, producing much higher dynamic range and sensitivity over the popular ICX285 sensor. The INFINITY3S-1UR has the unmatched light sensitivity needed for challenging low light applications such as fluorescence and NIR imaging. Lumenera's high-speed USB 3.0 data interface provides maximum allowable throughput where full resolution images can be sent to a host computer at an industry leading 60 fps when using the monochrome camera model.
Eigenschaften
Product Highlights:
Industry leading Sony EXview HAD ll sensor technology with 53% improvement in sensitivity over ICX285
Color or monochrome ICX825 CCD Global Shutter sensor with 2/3" optical format providing a resolution of 1392 x 1040 using 6.45 x 6.45 μm pixels
5.9 e- read noise
14-bit pixel depth for 16,384 tonal values per channel
60 fps at 1.4 megapixel (monochrome version); 45 fps at 1.4 megapixel (color version)
High-speed USB 3.0 interface for plug and play installation on any computer
GPIO for control of peripherals and synchronization
128 MB of onboard memory for frame buffering results in reliable image delivery
Key Performance Improvements for the ICX825:
The Sony ICX825 CCD sensor produces a 53% improvement in sensitivity over the popular ICX285 sensor. This sensor technology offers extremely high quantum efficiency, high dynamic range, 6.45 x 6.45 μm pixels and very low noise of 5.9 e-. The research-grade designation of the INFINITY3S-1UR is a testament to low noise electronics, high-grade components and unique thermal management techniques.
• 6dB increase in dynamic range vs ICX285
• Increased sensitivity thus reducing exposure time and reducing photo bleaching in fluorescence applications
• Increased frame rate of over 60fps vs 30fps for the ICX285
INFINITY Software:The INFINITY3S-1UR comes with Lumenera's fully-featured INFINITY ANALYZE, an image capture and analysis software package offering camera control, measurement, annotation, tiling and post capture enhancement. Camera and software combine to create a complete microscopy imaging solution for your application.
High Speed USB 3.0 Interface: The INFINITY3S-1UR uses the latest USB 3.0 technology at 5 Gbits/sec to deliver the fastest image transfer – even at its highest resolution. Lumenera's USB 3.0 cameras are backwards compatible with USB 2.0 for those not needing the full speed of the camera.
Contact us to discuss custom OEM variances.
Included in the Box:
INFINITY3S-1URC — 1.4 Megapixel Color CCD USB 3.0 Camera or INFINITY3S-1URM — 1.4 Megapixel Monochrome CCD USB 3.0 Camera
USB 3.0 Cable (3m length)
La050300 — Power Supply, 5 V DC, 15W
LuINFSW-DVD — DVD with INFINITY user application software (including INFINITY ANALYZE), TWAIN driver and documentation
Ordering Options:
LuIAP-2 — INFINITY Advanced Features Pack 2: Includes USB Key for extra INFINITY ANALYZE license +
Advanced Features Module (spherical aberration correction and multi-focus composition), additional 1 year warranty, 1 advance product replacement
La2000PAFL — GPIO Breakout Cable
LuSDKSW — Software Developer's Kit (Web Download)
Spezifikationen
Informieren Sie sich als Erster über alle neuen Produkte in unserem Sortiment und erfahren Sie die aktuellsten Forschungsergebnisse in der Mikroskopie in unserem monatlichen, kostenlosen Newsletter.