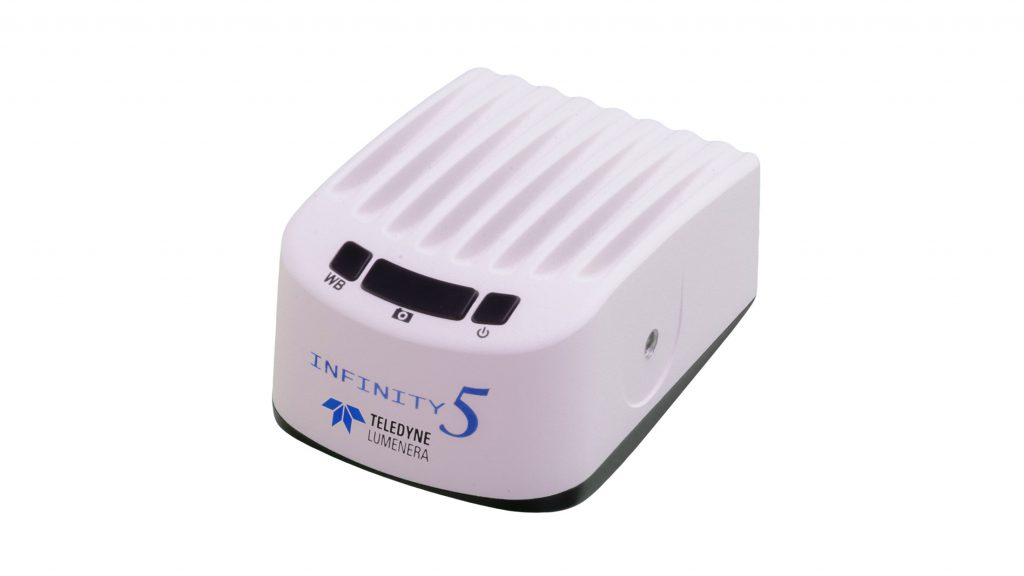 Die INFINITY5-3 von Lumenera ist eine hochwertige 3-Megapixel-Mikroskopkamera, die eine hohe Geschwindigkeiten bei hoher Auflösung bietet. Der INFINITY5-3 basiert auf dem Sony® Pregius ™ Global Shutter CMOS-Sensor, der mit der sCMOS-Technologie mithalten kann. Mit einer schnellen Fokussierung bei hohen Bildraten von bis zu 120 Bildern pro Sekunde kann der INFINITY5-3 in einer Vielzahl von Anwendungen eingesetzt werden.
Das 1 / 1,8-Zoll-Sensorformat der INFINITY5-3 bietet eine Auflösung von 2064 x 1544 mit 3,45-Mikrometer-Pixeln. Über den HDMI-Ausgang kann der INFINITY5-3 sowohl an einen Computer als auch an einen HDMI-Fernseher oder -Monitor angeschlossen werden.
Eigenschaften
Product Highlights
Sony Pregius global shutter sensor technology
Color or monochrome IMX252 Global Shutter CMOS sensor with 1/1.8" optical format providing a resolution of 2064 x 1544 using 3.45 x 3.45μm pixels
Fast frame rates at ~120 fps at full resolution in 8-bit
Dual output to USB 3 and HDMI compatible monitor
Intuitive on-camera buttons for power, white balance and image capture
Selectable 8 or 12-bit pixel data
High-speed USB 3.1 Gen 1 interface for fastest image delivery and simplified connectivity. USB 2.0 supported.
Software compatible with Windows 10, Windows 8.1, Windows 7, MAC OS X 10.13, 32 and 64-bit operating systems
Support for third-party capture and analysis applications: MetaMorph and Micro-Manager
Recommended coupler: 0.5x or 0.63x
Simultaneous Live Viewing on Computer and HDMI Monitor
Operate the camera by directly connecting to an HDMI monitor, or connect the camera to a PC or Mac via USB 3 for image preview and capture. Use the soft-touch response buttons to control the camera with or without connection to a computer.
Ready to Perform
The INFINITY5-3 comes ready to perform with cables (USB and HDMI), power supply, and INFINITY CAPTURE software for routine imaging needs, including camera setting adjustments, live preview, image capture, and video clips. The INFINITY5-3 also provides third-party interoperability with MetaMorph and Micro-Manager microscopy software, MatLab systems engineering software, LabView analysis software, and TWAIN and DirectShow interfaces.
Accurate Color
Lumenera's specialized algorithms ensure accurate color reproduction that results in a sample preview on a monitor that matches the view in the microscope eyepiece.
Guaranteed Quality
Lumenera provides an industry-leading, full four-year year warranty on all microscopy cameras.
Included in the Box
INFINITY5-3 — 3.2 MP digital camera with 3m USB 3 cable
LuINFLTSW-CD — CD with INFINITY ANALYZE and CAPTURE software, TWAIN driver and documentation
La050315 — Transformer, 5VDC, 15W, 3A, International
La2030HD — 3m HDMI Cable
Ordering Options
INFINITY5-3C —3.2 MP CMOS Color USB 3.1 Gen 1 Camera
INFINITY5-3M —3.2 MP CMOS Mono USB 3.1 Gen 1 Camera
LuIAP-2 — INFINITY Advanced Features Pack 2: Includes USB Key for extra INFINITY ANALYZE license + Advanced Features Module, 5 year total warranty, 1advance product replacement
La050315 — Transformer, 5VDC, 15W, 3A, International
La2000PAFL — GPIO cable with leads
La2030HD — 3m HDMI Cable
INFINITY-HD-WT — IOGEAR Wireless Transmitter & Receiver kit.
Spezifikationen
Informieren Sie sich als Erster über alle neuen Produkte in unserem Sortiment und erfahren Sie die aktuellsten Forschungsergebnisse in der Mikroskopie in unserem monatlichen, kostenlosen Newsletter.