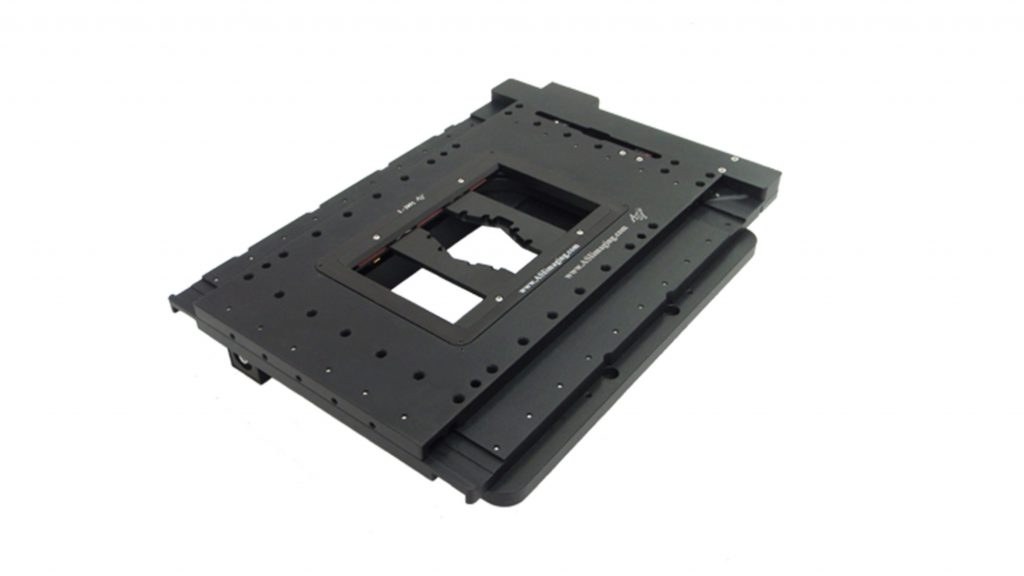 Extrem stabiler XY-Scanningtisch für hochauflösende Mikroskopie
The US-2000 Flat Top XY stage has been specifically designed to provide an ultra-stable, high resolution, and highly repeatable means of controlling the X, Y position of the microscope stage for superior resolution microscopy applications. The stage can be used in conjunction with ASI's proven line of Z-axis motor drives, each custom fitted to the microscope for complete XYZ positioning. All exes derive their precise control through the use of closed loop DC servomotors employing high resolution rotary encoders for positioning feedback. For ultra high precision Z focusing piezos can be embedded within the top plate of the stage in travel ranges of 150, 300, or 500 microns. The US-2000 XY stage utilizes crossed-roller slides, a high precision lead screw, and zero backlash miniature geared DC servomotors for smooth and accurate motion. XY travel ranges from 25mm to 120mm are available. To minimize thermal drift it is best to choose the 25mm travel range as it uses a smaller lead screw to reduce thermal variations at the sample. With the optional linear encoders and 0.635mm pitch lead screws resolutions of 2.5nm with true optical resolutions of 10nm at the sample are available. The micro-processor controlled MS-2000 control unit provides for RS-232 and USB communication with a host computer. Systems are available for all standard research grade microscopes and OEM applications.
Eigenschaften
US-2000 Features
Closed loop DC servo control of the X, Y, and Z-axes for precise positioning and highly repeatable focusing
Wide dynamic speed range with XY joystick
Utilizes ASI's proven Z-Axis drives
Z-axis clutch for easy switching between manual and motor driven focus control
Backlit LCD display shows X, Y, and Z coordinates
"Zero" and "Home" buttons for simple stand-alone operations
Compact, ergonomic tabletop control unit size is 6"D x 9"W x 3"H (9 x 23 x 16.5 cm)
Microprocessor control with RS-232 serial and USB communications
Travel Range will scan full well plate in most circumstances
Proven operation with many popular software packages
US-2000 Options
Piezo top plates with Z ranges of 150, 300 and 500 µm
Larger stage top plate for attachment of micromanipulators, microinjectors, etc…
Stage wings for even more room for attachments
Auto-focus for stages with ASI Z-axis drives (requires NTSC, PAL, or S-Video analog signal)
Other lead screw pitches are available
US-2000 Lead Screw Options
| | | |
| --- | --- | --- |
| Lead Screw Pitch Options | Rotary Encoder Resolution | Maximum Speed |
| 25.40 mm (Ultra-coarse) | 88 nm | 28 mm/sec |
| 12.70 mm (Super-coarse) | 44 nm | 14 mm/sec |
| 6.35 mm (Standard) | 22 nm | 7 mm/sec |
| 1.59 mm (Fine) | 5.5 nm | 1.75 mm/sec |
| 0.635 mm (Extra-fine) | 2.2 nm | 0.7 mm/sec |
Spezifikationen
Informieren Sie sich als Erster über alle neuen Produkte in unserem Sortiment und erfahren Sie die aktuellsten Forschungsergebnisse in der Mikroskopie in unserem monatlichen, kostenlosen Newsletter.