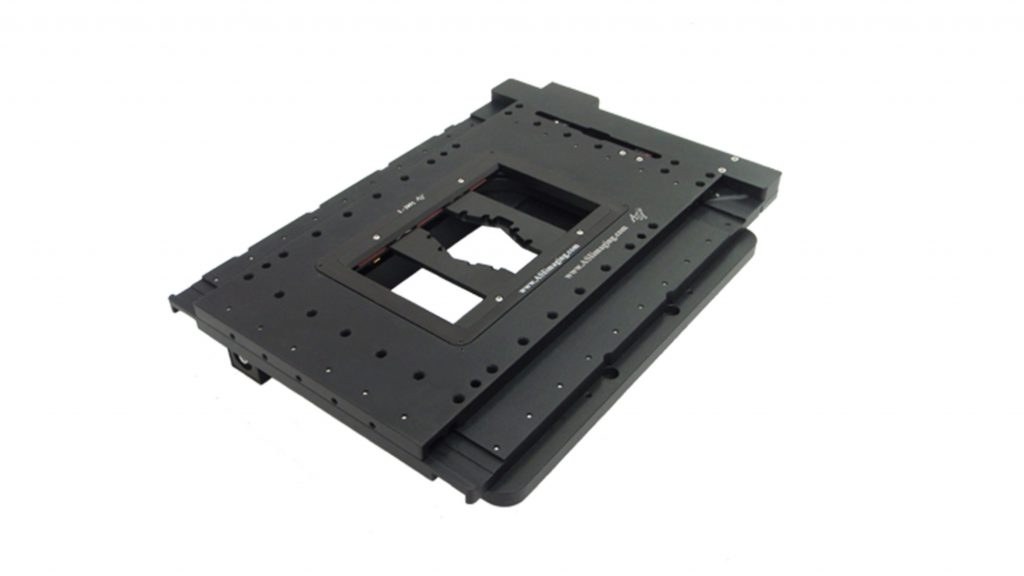 Ultra-Stable US-2000 Flat-Top XY Automated Stage for Super Resolution Microscopy
The new US-2000 by ASIimaging is a motorized stage designed to hold really still. This boils down to moving as little as possible with temperature changes.
The new US-2000 should never be used for scanning, and repeatability is greatly sacrificed for thermal stability. The most prominent application of the US-2000 single-molecule localization microscopy (SMLM), a category of super-resolution microscopy which includes PALM, STORM, DNA-PAINT, etc.
SMLM uses long exposure times to image individual stationary fluorophores. During post-processing, the centre of each point is determined with an accuracy/resolution of up to 10 nanometres, which is why the object stage must be kept very still.
The US-2000 was designed to mount to a RAMM frame or stand-alone.

It has been adapted to fit on Nikon Ti2 and Olympus IX71/73/81/83. No option currently exists for Zeiss or Leica stands.
Properties
US-2000 Features
Closed loop DC servo control of the X, Y, and Z-axes for precise positioning and highly repeatable focusing
Wide dynamic speed range with XY joystick
Utilizes ASI's proven Z-Axis drives
Z-axis clutch for easy switching between manual and motor driven focus control
Backlit LCD display shows X, Y, and Z coordinates
"Zero" and "Home" buttons for simple stand-alone operations
Compact, ergonomic tabletop control unit size is 6"D x 9"W x 3"H (9 x 23 x 16.5 cm)
Microprocessor control with RS-232 serial and USB communications
Travel Range will scan full well plate in most circumstances
Proven operation with many popular software packages
US-2000 Options
Piezo top plates with Z ranges of 150, 300 and 500 µm
Larger stage top plate for attachment of micromanipulators, microinjectors, etc…
Stage wings for even more room for attachments
Auto-focus for stages with ASI Z-axis drives (requires NTSC, PAL, or S-Video analog signal)
Other lead screw pitches are available
US-2000 Lead Screw Options
| | | |
| --- | --- | --- |
| Lead Screw Pitch Options | Rotary Encoder Resolution | Maximum Speed |
| 25.40 mm (Ultra-coarse) | 88 nm | 28 mm/sec |
| 12.70 mm (Super-coarse) | 44 nm | 14 mm/sec |
| 6.35 mm (Standard) | 22 nm | 7 mm/sec |
| 1.59 mm (Fine) | 5.5 nm | 1.75 mm/sec |
| 0.635 mm (Extra-fine) | 2.2 nm | 0.7 mm/sec |
Specifications
Be the first to get all the information about new products in our range and find out the latest research results in microscopy in our free newsletter.