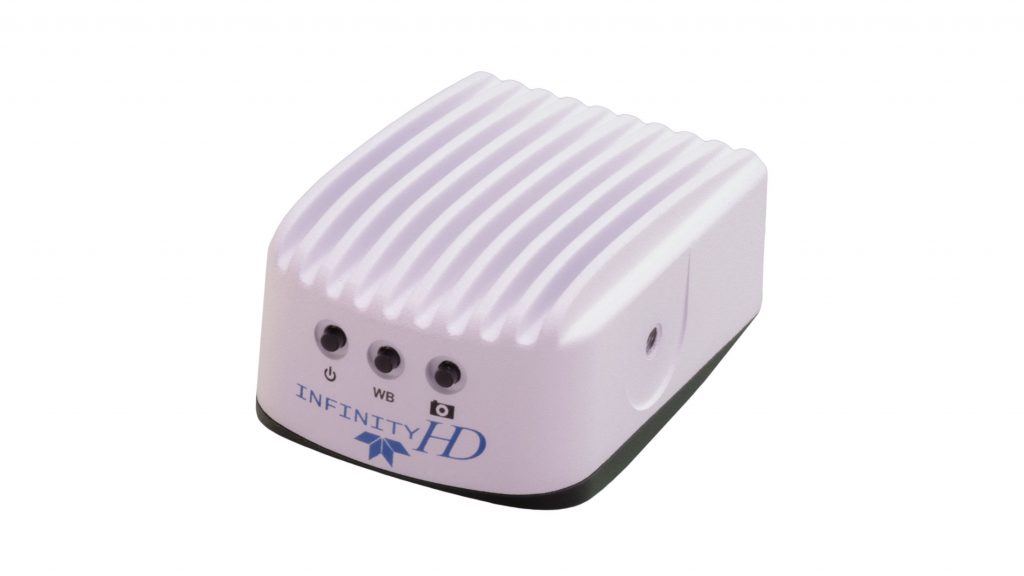 Lumenera's INFINITYHD high definition CMOS color microscopy camera is a full featured, standalone, high definition scientific imaging solution offering full 1080p60 preview with superb color reproduction and extremely fast frame rates streaming direct to monitor.
Operate the camera by directly connecting to a monitor without connecting to a PC, or utilize the plug-and-play USB 2.0 image capture. With extremely fast response times, the INFINITYHD quickly reacts to lighting changes in any life science, clinical or material application. Video output over HDMI connector to either a DVI or HDMI monitor. 3 on-camera buttons allow easy access to power, white balance and image capture.
Properties
Product Highlights:
1/3″ (16:9) CMOS 2 megapixel sensor
1080p60 high definition format 1920 x 1080
Direct output to monitor
3 on-camera buttons for power, white balance and capture
Wifi capabilities with the INFINITY-HD-WT ordering option
Superior Color Reproduction:
Years of experience in the microscopy market have allowed Lumenera to develop specialized color algorithms ensuring excellent color reproduction. This results in a sample preview on a monitor that closely matches the view on the microscope eyepiece.
Full Frame Rates:
The INFINITYHD camera provides the required 60 fps for true high definition, unlike many competitors professing to be HD but offering considerably lower frame rates. This allows for smooth manipulation on the preview without any lag.
INFINITYHD Software
The included INFINITYHD software allows for image capture. The software is intuitive and can be set up in minutes. Once the camera is initially installed, the camera can run independently or used via the high-speed USB 2.0 connection.
Looking to record video to a computer? Click here here for more details .
Superior Technical Assistance Center (TAC):
As a Lumenera customer you gain access to the TAC group and knowledge base, which provide full support for cameras, software and microscopy applications.
Included in the Box:
INFINITYHD — 2.0 Megapixel CMOS Color Camera for USB 2.0
LuINFHDSW-DVD — DVD with INFINITYHD user application software and documentation
La2020HD — 2 m HDMI cable
La2030M — 3 m USB 2.0 A – mini B cable
La050300 — 5VDC, 2.5A, 12.5W Power Supply
Ordering Options:
LuIAP-1 — INFINITY Advanced Features Pack 1: Includes USB Key for extra INFINITY ANALYZE license, additional 1 year warranty, 1 advance product replacement
LuSDKSW — Software Developer's Kit (Web Download)
LuHDSW-DVD — Software Developer's Kit (DVD)
INFINITY-HD-WT — IOGEAR Wireless Transmitter and Receiver kit. More information here.
Specifications
Be the first to get all the information about new products in our range and find out the latest research results in microscopy in our free newsletter.