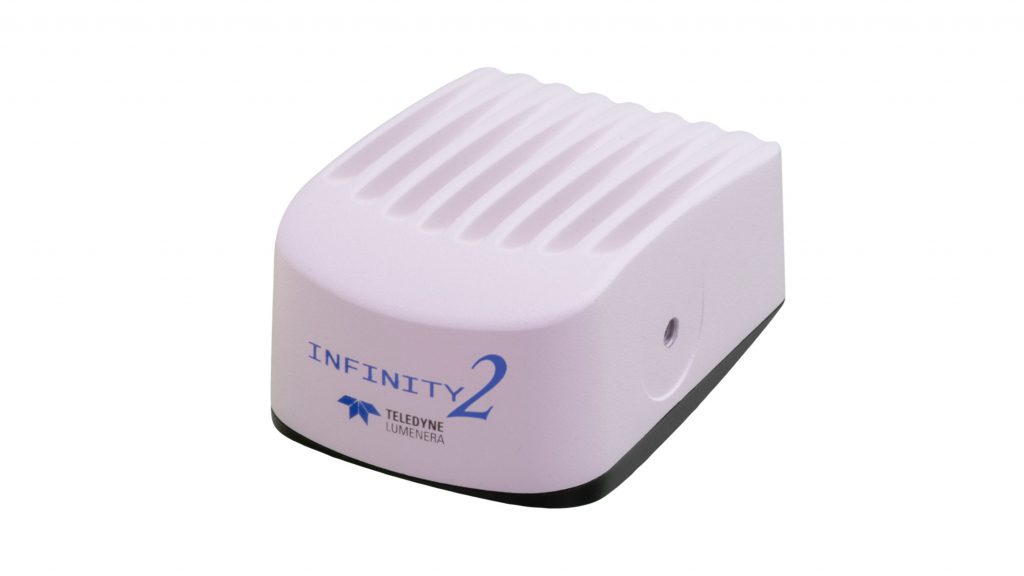 Lumenera's INFINITY2-2 digital CCD camera offers excellent sensitivity, high resolution and a wide dynamic range for brightfield, darkfield, and DIC imaging applications.
With 1616X1216 resolution and on-board processing, the INFINITY2-2 delivers outstanding image quality for a wide variety of scientific applications. Live video preview provides for real-time focus while auto exposure and auto white balance efficiently capture your optimal image. An intuitive user application provides camera controls while full integration to popular third-party imaging applications is available through our TWAIN drivers.
Properties
Product Highlights:
High-speed USB 2.0 interface for ease of installation on any computer
Crisp color quality for the most demanding brightfield and darkfield microscopy applications including clinical pathology and cytology, histology, life science and geology
12 fps at full 1616 X 1216 resolution, 30 fps at smaller regions of interest
The excellent sensitivity and low noise 2.0 megapixel CCD image sensor
High quality images over a wide range of lighting conditions
Select 8 & 12-bit pixel data modes
The USB 2.0 digital interface ensures a simple plug and play installation – and one standard cable minimizes camera clutter.
Every INFINITY camera includes INFINITY ANALYZE software for advanced camera control, image processing, measuring and annotation, as well as INFINITY CAPTURE, an intuitive user interface which includes all of the basic features needed to control your INFINITY camera and capture images.
The INFINITY2-2 is available in color or monochrome. Contact us for more information on our board-level OEM and custom camera enclosures.
INFINITY cameras are supported by an experienced team of technical support and imaging experts. We understand your imaging needs and are here to help you get the most out of your camera. 
Included in the Box:
INFINITY2-2C — 2.0 Megapixel Color CCD Camera or INFINITY2-2M — 2.0 Megapixel Monochrome CCD Camera
2 m USB 2.0 cable
LuINFSW-DVD — DVD with INFINITY user application software (including INFINITY ANALYZE), TWAIN driver and documentation
Ordering Options:
LuIAP-2 – INFINITY Advanced Features Pack 2: Includes USB Key for extra INFINITY ANALYZE license +
Advanced Features Module (spherical aberration correction and multi-focus composition), additional 1 year warranty, 1 advance product replacement
LuSDKSW — Software Developer's Kit (Web Download)
Specifications
Be the first to get all the information about new products in our range and find out the latest research results in microscopy in our free newsletter.