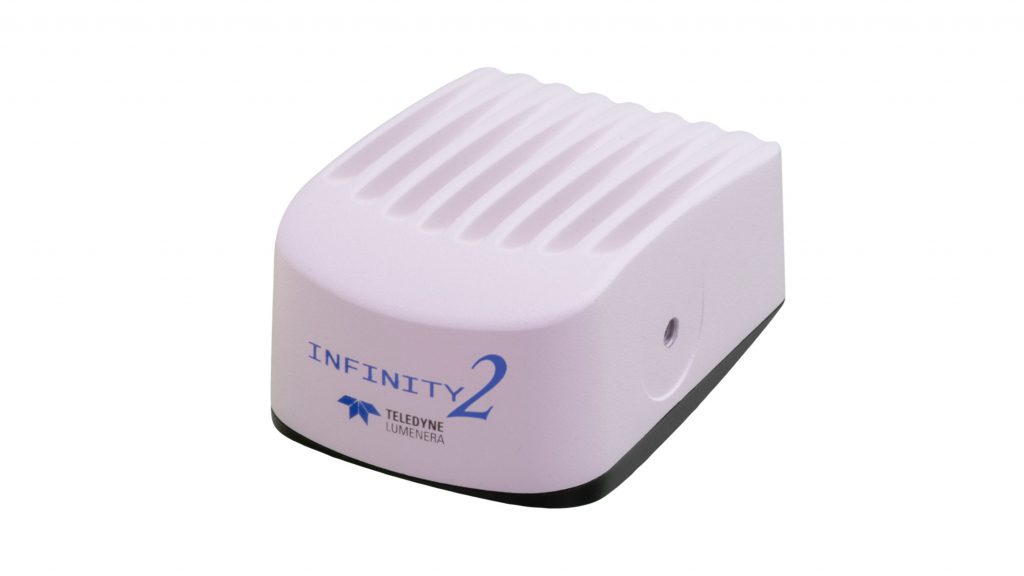 Lumenera's INFINITY2-5 digital CCD camera offers excellent sensitivity, high resolution and a wide dynamic range for brightfield, darkfield, and DIC imaging applications.
With 2448 X 2048 resolution and on-board processing, the INFINITY2-5 delivers outstanding image quality for a wide variety of scientific applications. Live video preview provides for real-time focus while auto exposure and auto white balance efficiently capture your optimal image. An intuitive user application provides camera controls while full integration to popular third-party imaging applications is available through our TWAIN drivers.
Properties
Product Highlights:
Progressive scan 2/3″ Sony Super HAD ICX655 5.0 megapixel CCD sensor
High-speed USB 2.0 interface for ease of installation on any computer
Full color sub-windowing allows for rapid focus and scanning of samples
Crisp color quality for the most demanding brightfield and darkfield microscopy applications
9 fps at full 2448 x 2048 resolution, 23 fps at 640 x 480 (with ROI)
Select 8 & 14-bit pixel data modes
Excellent Color Reproduction:
Years of experience in the microscopy market have allowed Lumenera to develop specialized color algorithms ensuring excellent color reproduction in samples ranging from stained cells to wafer inspection.
Full Image Analysis Software Included:
Every INFINITY camera includes INFINITY ANALYZE software for advanced camera control, image processing, measuring and annotation, as well as INFINITY CAPTURE, an intuitive user interface which includes all of the basic features needed to control your INFINITY camera and capture images.
Third-Party Software Integration:
INFINITY cameras are integrated into a variety of third-party software packages through direct drivers or with TWAIN/DirectX support.
Mac Camera Software:
A Mac camera driver, capture application and ImageJ plug-in are available for the INFINITY2-5. Please refer to the Microscopy Drivers/Software Downloads page under Support for up-to-date details.
Superior Technical Assistance Center (TAC):
As a Lumenera customer you gain access to the TAC group and knowledge base, which provide full support for cameras, software and microscopy applications.
Included in the Box:
INFINITY2-5C — 5.0 Megapixel CCD Color Camera or INFINITY2-5M — 5.0 Megapixel CCD Monochrome Camera
Lu802 — 2 m USB 2.0 Cable
LuINFSW-DVD — DVD with INFINITY user application software (including INFINITY ANALYZE), TWAIN driver and documentation
Ordering Options:
LuIAP-2 – INFINITY Advanced Features Pack 2: Includes USB Key for extra INFINITY ANALYZE license +
Advanced Features Module (spherical aberration correction and multi-focus composition), additional 1 year warranty, 1 advance product replacement
LuSDKSW — Software Developer's Kit (Web Download)
La050300 — 5VDC, 2.5A, 12.5W Power Supply (Optional)
Specifications
Be the first to get all the information about new products in our range and find out the latest research results in microscopy in our free newsletter.