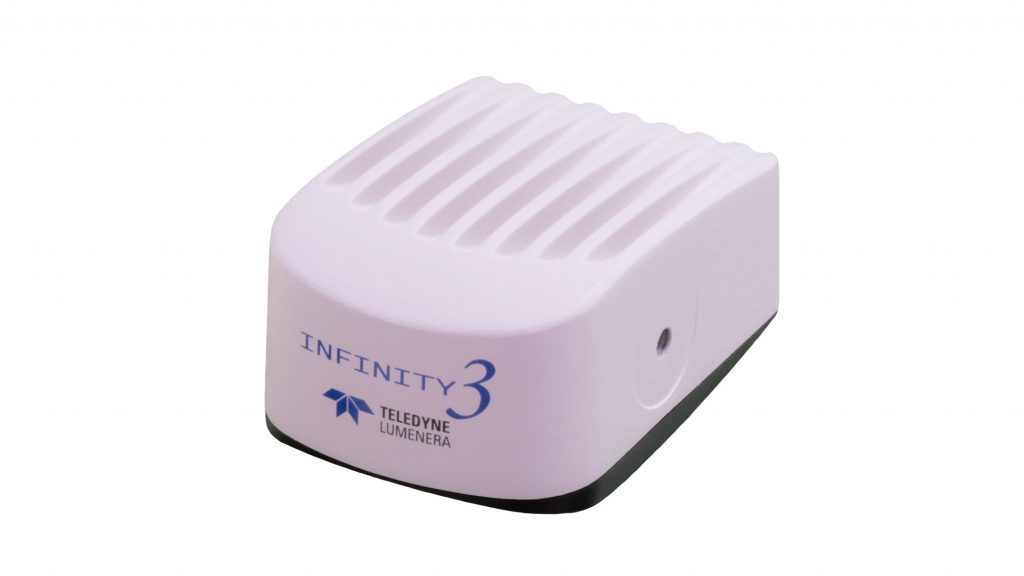 The INFINITY3-3UR scientific digital camera features a Sony ICX674 CCD sensor, offers 53 fps at full 2.8 megapixel resolution via a high-speed USB 3.0 interface. Designed for use in scientific and industrial applications requiring optimal color reproduction, extreme sensitivity, increased resolution and high speed.
The INFINITY3-3UR provides unmatched light sensitivity needed for low light applications. Relying on Sony's EXview HAD ll technology, this camera offers extremely high dynamic range, 4.54 x 4.54 µm pixels and very low noise. The INFINITY3-3UR delivers outstanding image quality and value for challenging low light applications such as fluorescence and NIR imaging.
Properties
Product Highlights:
53 fps at 2.8 megapixel, 66 fps at full HD (1936 x 1456)
Industry leading Sony EXview HAD ll sensor technology
Color or monochrome ICX674 CCD sensor with 2/3" optical format
High-speed USB 3.0 interface for ease of installation on any computer
128 MB of onboard memory for frame buffering results in reliable image delivery for demanding systems
Select 8 and 14-bit pixel data modes
The INFINITY3-3UR uses the latest USB 3.0 technology at 5 Gbits/sec to deliver the fastest image transfer – even at its highest resolution. Image captures can be synchronized using either a hardware or software trigger. 128 MB of onboard memory for frame buffering ensures dependable and reliable image delivery at full frame rate and highest resolution even in the most demanding systems.
INFINITY CAPTURE, an intuitive image capture program, and INFINITY ANALYZE, a full image analysis package offering camera control, measurement, annotation, tiling and post capture enhancement, are included with the camera. Camera and software combine to create a complete microscopy imaging solution for your application.
Contact us to discuss custom OEM variances.
Included in the Box:
INFINITY3-3URC — 2.8 Megapixel Uncooled Color CCD USB 3.0 Camera or INFINITY3-3URM — 2.8 Megapixel Uncooled Monochrome CCD USB 3.0 Camera
USB 3.0 Cable
La050300 — Power Supply, 5 V DC, 12.5 W
LuINFSW-DVD — DVD with INFINITY user application software (including INFINITY ANALYZE), TWAIN driver and documentation
Ordering Options:
LuIAP-2 — INFINITY Advanced Features Pack 2: Includes USB Key for extra INFINITY ANALYZE license +
Advanced Features Module (spherical aberration correction and multi-focus composition), additional 1 year warranty, 1 advance product replacement
La2000PAFL — GPI/O Breakout Cable
LuSDKSW — Software Developer's Kit (Web Download)
Specifications
Be the first to get all the information about new products in our range and find out the latest research results in microscopy in our free newsletter.