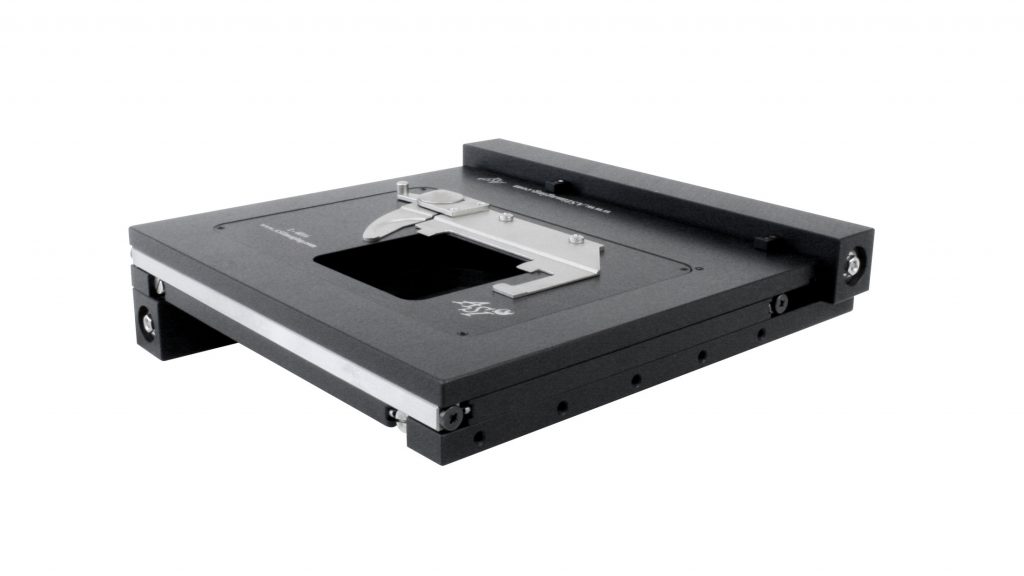 The MS-2000 XY stage has been specifically designed to provide a high resolution, and highly repeatable, means of controlling the X and Y position of a microscope stage. All axes derive their precise control through the use of closed-loop DC servomotors employing high-resolution rotary encoders for positioning feedback. By using closed-loop control of the stage position, there is no chance that the stage will become lost, as can occur with open-loop micro-stepped stages after a number of moves and direction changes. The MS-2000 XY stage utilizes crossed-roller slides, a high-precision lead screw, and zero-backlash miniature geared DC servomotors for smooth and accurate motion. The microprocessor-controlled MS-2000 control unit provides for RS-232 and USB communication with a host computer.
Properties
MS-2000 Features
Closed-loop DC servo control of the XY-axes for precise positioning and repeatability
Wide dynamic speed range with XY joystick control
Backlit LCD display shows the coordinates
Works with ASI's proven Z-axis drives
Proven operation with many popular software packages
"Zero" and "Home" button for simple stand-alone operations
Microprocessor control with RS-232 serial and USB communications
Compact ergonomic tabletop control unit size is 6"D x 9"W x 3"H (16½ x 23 x 9 cm)
Suitable for smaller upright microscopes, stand-alone, OEM, and specialty applications
MS-2000 Product Compatibility
Leica – Aristoplan, Diaplan, DMLB, DMLS, DMLFS, Laborlux-D, Laborlux-S, Microplan, Orthoplan
Nikon – AZ100, Eclipse 400, Eclipse 600, Eclipse 600FN, Labophot, Microphot FXA, Microphot SA, Optiphot, Optiphot 1, Optiphot 2, Optiphot UD, SMZ800, SMZ1000, SMZ1500
Olympus – BH2, BX41, MVX Stereo, MX50, SZX12 Stereo, SZX16 Stereo
Zeiss – Axiolab, Axiophot II, Axioskop FS, Axiostar, Standard 16, Universal
Specifications
Be the first to get all the information about new products in our range and find out the latest research results in microscopy in our free newsletter.