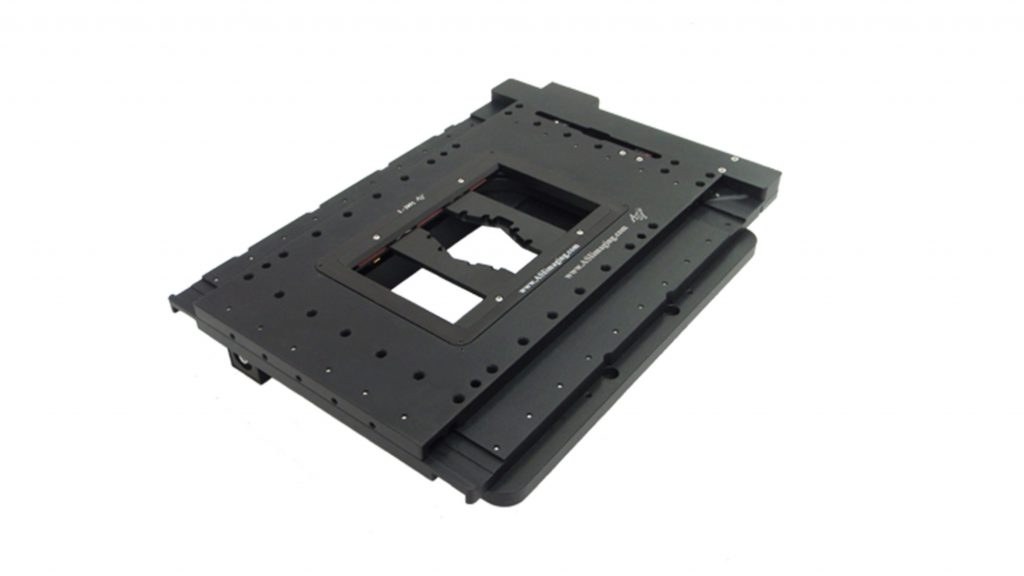 Ultra-Stable US-2000 Flat Top XYZ super resolution scanning stage
The US-2000 Flat-Top XYZ stage by ASIimaging is a super-resolution microscope and its scanning stage fulfills all accruing microscopy application needs by providing a high-resolution image and an ultra-stable working experience.
The user is able to control the X, Y and Z position of the microscope stage smoothly and with the most accurate movement. Full XYZ positioning is made possible by the proven ASI piezo drives for the Z-axis.
Closed loop DC servomotors, which utilize high resolution rotary encoders for feedback, achieve precise control on positioning. For the highest precision possible, Z focusing piezos can be placed in the upper plate in travel dimensions of 150, 300 or 500 microns.
XY travel dimensions are available in a range from 25mm to 120mm. Including a linear encoder and a 0.635mm lead screw pitch, it is possible to achieve a resolution of 2.5nm and a true optical resolution of 10nm at the sample. The Stage can be connected to a computer by using an RS-232 or USB connection, which is achieved by the build-in control unit.
Every standard research grade microscope is compatible with this product.
Properties
US-2000 Features
Closed loop DC servo control of the X, Y, and Z-axes for precise positioning and highly repeatable focusing
Wide dynamic speed range with XY joystick
Utilizes ASI's proven Z-Axis drives
Z-axis clutch for easy switching between manual and motor driven focus control
Backlit LCD display shows X, Y, and Z coordinates
"Zero" and "Home" buttons for simple stand-alone operations
Compact, ergonomic tabletop control unit size is 6"D x 9"W x 3"H (9 x 23 x 16.5 cm)
Microprocessor control with RS-232 serial and USB communications
Travel Range will scan full well plate in most circumstances
Proven operation with many popular software packages
US-2000 Options
Piezo top plates with Z ranges of 150, 300 and 500 µm
Larger stage top plate for attachment of micromanipulators, microinjectors, etc…
Stage wings for even more room for attachments
Auto-focus for stages with ASI Z-axis drives (requires NTSC, PAL, or S-Video analog signal)
Other lead screw pitches are available
US-2000 Lead Screw Options
| | | |
| --- | --- | --- |
| Lead Screw Pitch Options | Rotary Encoder Resolution | Maximum Speed |
| 25.40 mm (Ultra-coarse) | 88 nm | 28 mm/sec |
| 12.70 mm (Super-coarse) | 44 nm | 14 mm/sec |
| 6.35 mm (Standard) | 22 nm | 7 mm/sec |
| 1.59 mm (Fine) | 5.5 nm | 1.75 mm/sec |
| 0.635 mm (Extra-fine) | 2.2 nm | 0.7 mm/sec |
Specifications
Be the first to get all the information about new products in our range and find out the latest research results in microscopy in our free newsletter.