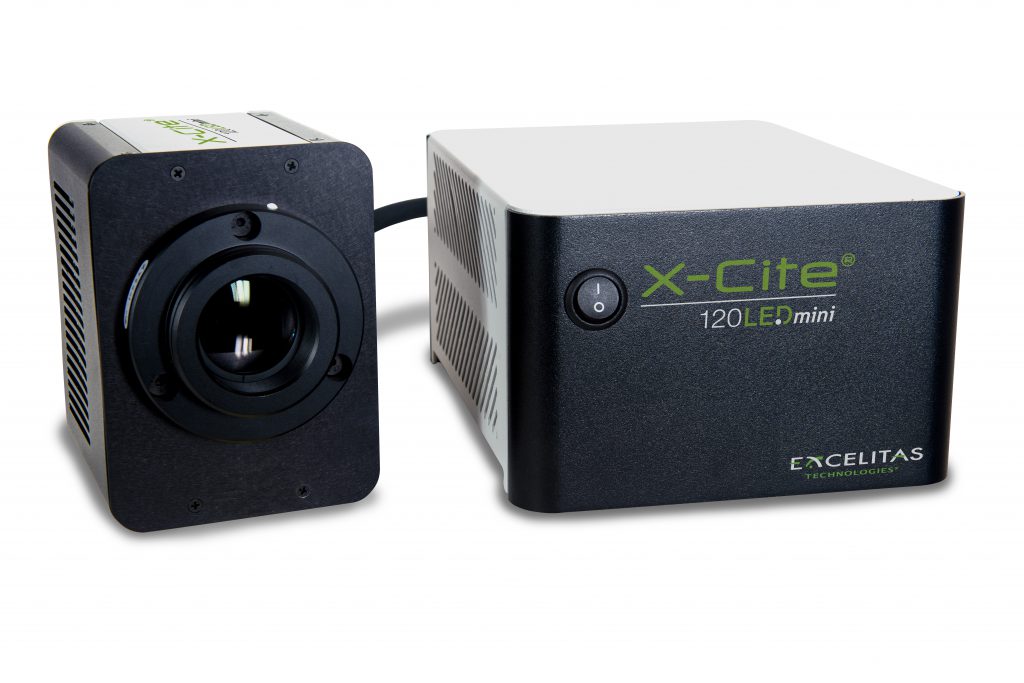 Die Direktkopplung in das Fluoreszenzmikroskop ermöglicht der X-Cite 120LEDmini eine überdurchschnittliche optische Leistung und außergewöhnliche Feldhomogenität auf Probenebene, mit dem breitesten Spektrum der Fluoreszenzanregung. Darüber hinaus bietet die X-Cite 120LEDmini eine einfache und flexible Bedienung für den Basisbetrieb durch den mitgelieferten Speed Dial bis hin zur Vollautomatisierung über USB oder TTL-Steuerung. Mit einer garantierten LED-Lebensdauer von 20 000 Stunden ist die X-Cite 120LEDmini praktisch wartungsfrei, ohne Lampen- oder Lichtleiter ersetzen zu müssen, und hat aufgrund ihrer kompakten Größe nur minimalen Platzbedarf.
Properties
Specifications
System Includes: X-Cite 120LED Head, miniCube, speedDIAL, microscope flange, accessory kit
Wavelength Range: 370-700 nm
External Power Supply: Universal input 100-240 VAC, 50/60 Hz
Power Consumption: 150W
LED ON/OFF Response Times: 85 μs TTL / 1 ms USB
Control Options: ON/OFF – TTL compatible, speedDIAL, RS-232 commands (SDK available), USB
I/O Connections: BNC input , USB (B-type)
Dimensions – HEAD 100 mm x 135 mm x 110 mm (W x H x D)
Dimensions – CONTROLLER 180 mm x 110 mm x 230 mm (W x H x D)
Dimensions – speedDIAL 80 mm x 59 mm x 112 mm (W x H x D)
Weight: 3.4 kg (7.5 lb)
Certifications: RoHS, CE
Warranty: LEDs – 20,000 hours, All other X-Cite 120LEDmini components – 1 year, parts and labor
Be the first to get all the information about new products in our range and find out the latest research results in microscopy in our free newsletter.