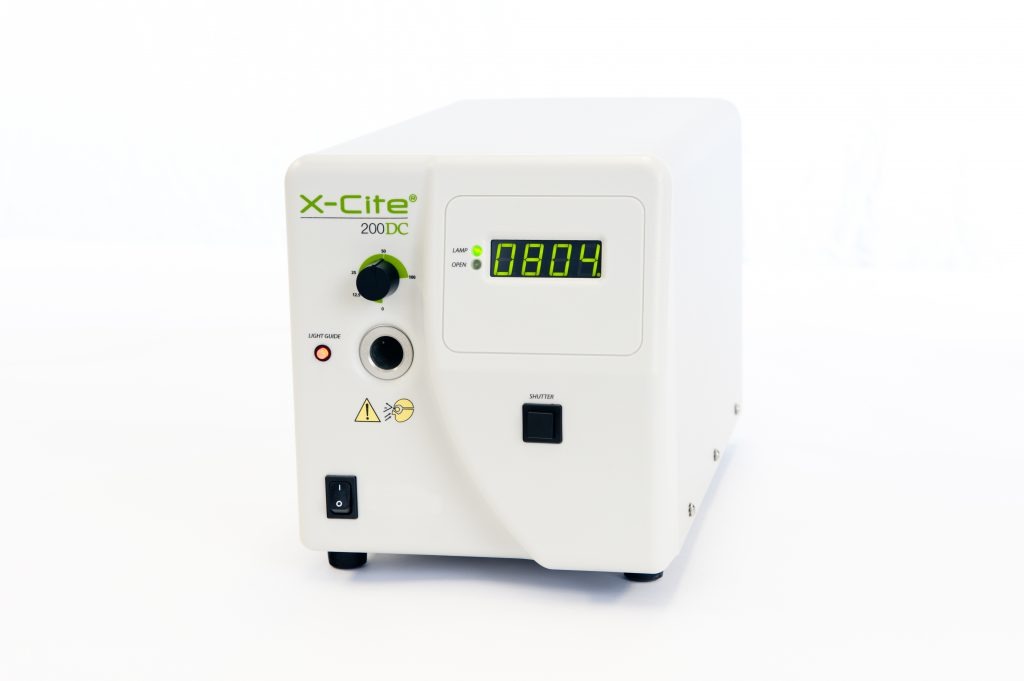 The X-Cite® 200DC fluorescence microscopy illumination system offers the ultimate combination of optical performance, short-term stability and a built-in fast shutter. With the convenience and superior illumination uniformity found in all X-Cite® systems, the X-Cite 200DC's intuitively easy-to-use design also includes light guide auto-detection to ensure optimized light coupling – every time An automatic fiber optic recognition ensures optimized light coupling and service life. Novice and experienced microscopists will enjoy the flexibility provided by the smooth 0-100% intensity adjustment and expanded spectral range of this advanced DC stabilized fluorescence light source.
The Intelli-Lamp® technology guarantees a lamp life of more than 2000 hours. The lamp is already pre-aligned, so that lamp changes can be performed in one step and no subsequent adjustment is necessary. The adjustable iris diaphragm allows the user to set the level of lighting application specific.
The X-Cite® 200DC combines the most valuable X-Cite® features in a single system. Ideal for routine imaging and demanding applications requiring mileage stability.
Properties
Internal high speed shutter to limit photobleaching and mechanical vibration transferred to microscope during automated imaging for better image quality.
DC lamp with exceptional short and medium term intensity stability
Intelli-Lamp® Technology to maintain optimum lamp temperature and monitor lamp hours.
Pre-aligned lamp for easy lamp replacement with no alignment required.
Guaranteed 2000 hours lamp life – less lamp replacement saves time and money
Liquid Light Guide for superior illumination uniformity and elimination of heat transfer to microscope.
Automatic Light Guide Detection to ensure proper/complete insertion of light guide to optimize performance and extend lifetime
Adjustable iris (0-100%) for intensity control to avoid photobleaching and optimized illumination levels
Specifications
Be the first to get all the information about new products in our range and find out the latest research results in microscopy in our free newsletter.