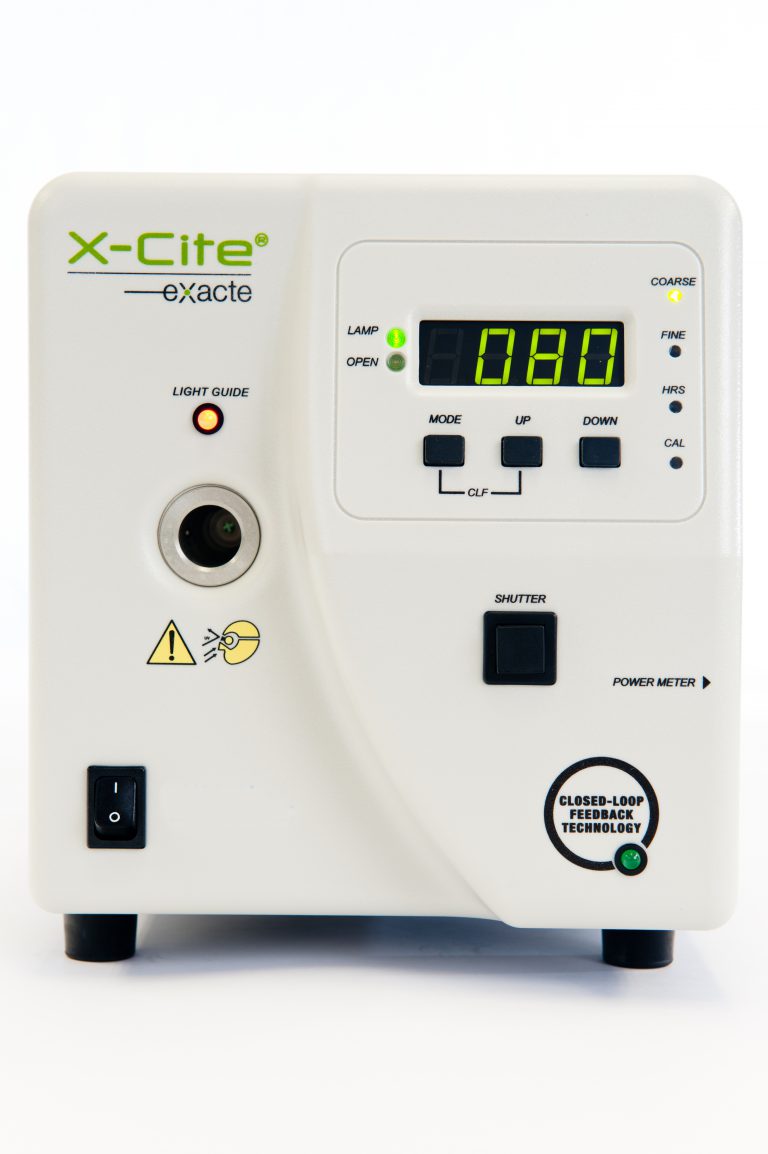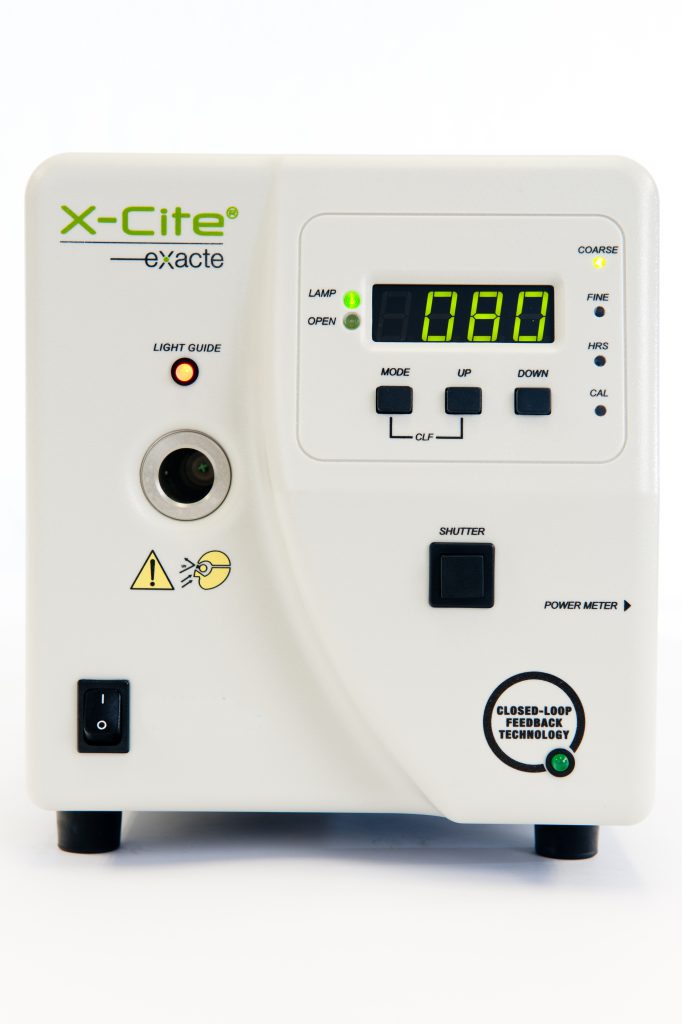 The X-Cite® exacte ultra-stable fluorescence light source employs a DC-powered mercury lamp coupled with our proprietary Closed-Loop Feedback technology to provide unmatched short and long-term intensity stability, for imaging protocols lasting from milliseconds to days. With the X-Cite Optical Power Measurement System, light output can also be calibrated in absolute power units (watts), ensuring truly repeatable fluorescence illumination for imaging experiments. The X-Cite exacte offers the convenience of pre-aligned, long-life lamps and easy installation combined with innovative functions in the newest generation of mercury arc fluorescence illumination systems.
X-Cite® exacte offers the ultimate combination of optical performance, speed and built-in fast shutter. In addition to the comfort and superior illumination familiar to all X-Cite® systems, the X-Cite® exacte captivates with its intuitive and easy-to-use design. An automatic fiber optic recognition ensures optimized light coupling and service life. The Intelli-Lamp® technology guarantees a lamp life of more than 2000 hours. The lamp is already pre-aligned, so that lamp changes can be performed in one step and no subsequent adjustment is necessary. The adjustable iris diaphragm allows the user to set the level of lighting application specific.
Properties
Properties
High-Speed Internal Shutter – The X-Cite exacte is equipped with a high-speed internal shutter activated by push-button, foot pedal, RS-232 commands or TTL, eliminating the need to purchase additional hardware for high-speed applications.
Illumination Stability You Can Count On – Using a DC-powered lamp coupled with our proprietary Closed-Loop Feedback (CLF) technology, the X-Cite exacte maintains constant power and ensures ultra-stable illumination. The X-Cite exacte is ideal for long term time-lapse and comparative imaging, remaining consistent whether experiments last for milliseconds or days.
Intelli-Lamp® Technology to maintain optimum lamp temperature and track lamp hours.
Optical calibration – for uniform illumination and empirical repeatability
Closed-loop control – guarantees maximum stability
Computer Control & GUI to enable computer-driven applications and stability of data exporting.
Pre-aligned, 2000 hour lamp for easy lamp replacement with no alignment required and lower running costs.
Light delivery via Liquid Light Guide for excellent illumination uniformity and avoidance of heat transferred to the microscope.
Automatic Light Guide Detection to ensure proper/complete insertion of light guide to optimize performance and lifetime.
Equipped with an iris to provide adjustment of light intensity in steps as small as 1% from 0-100%, the X-Cite exacte optimizes specimen illumination. This provides the flexibility and control of intensity attenuation required where photobleaching is a concern.
Specifications
Be the first to get all the information about new products in our range and find out the latest research results in microscopy in our free newsletter.