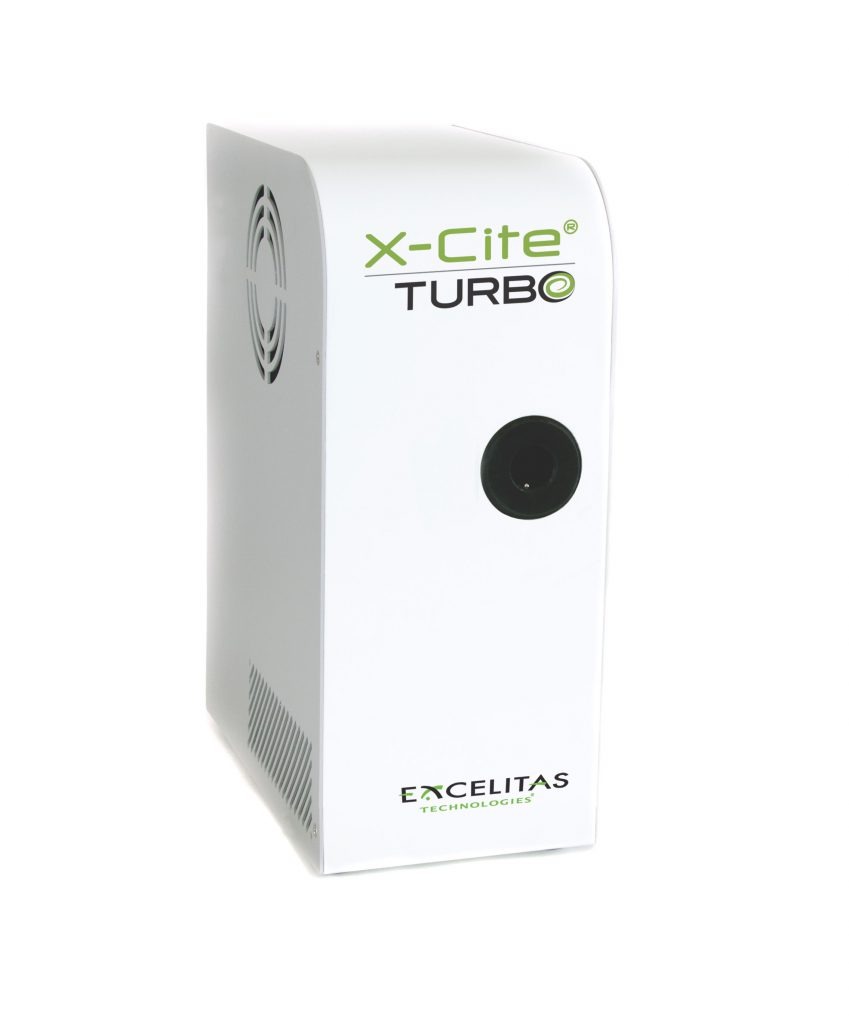 The X-Cite® TURBO is a powerful, six-wavelength LaserLED Hybrid source for fluorescence excitation applications. Providing maximum excitation for up to six fluorophores using our patented LaserLED Hybrid Drive®, X-Cite TURBO offers a highly versatile solution for routine to advanced imaging applications. With manual, PC, TTL and analog control, as well as compatibility with existing imaging software drivers, X-Cite TURBO includes convenient control options for any instrument configuration. With six high-power wavelengths, researchers have the flexibility to add additional fluorophores for live or fixed cell imaging to their imaging arsenal.
Properties
Specifications
System includes: X-Cite TURBO unit, speedDIAL remote, 3mm x 1500mm liquid light guide, accessory kit (hex key, USB cable, filter holder screws, trigger cable, power bar & cord), microscope adaptor
Wavelengths (usable range):
385 nm (375-400)
430 nm (415-450)
475 nm (460-495)
525 nm (505-550)
575 nm (555-610)
630 nm (615-660)
Excitation Filters: Accommodates standard 25 mm diameter filters, with 3-5 mm frames; filters not included
External Power Supply: Universal input 100-240 VAC, 50/60 Hz
Power Consumption: 156W (with all LEDs on)
LED ON/OFF Response Times: <100µs TTL / 1ms USB
Acoustic Noise: 49 dB
Optical Stability: Wavelength dependent, ≤5% at 22°C ambient
Control Options: ON/OFF I/O- TTL compatible, typical 800µA
Intensity I/O – Analog, 1-5V, maximum 500µA
RS-232 commands (SDK available), USB
I/O Connections: DB25 to 12x BNC (6 TTL, 6 Analog)
USB (B-type)
Dimensions: 110 mm x 260 mm x 230 mm (W x H x D)
Weight: 4.5 kg
Certifications: RoHS, CE
Warranty: LEDs – 15,000 hours or 3 years
All other components – 1 year, parts and labor
Be the first to get all the information about new products in our range and find out the latest research results in microscopy in our free newsletter.