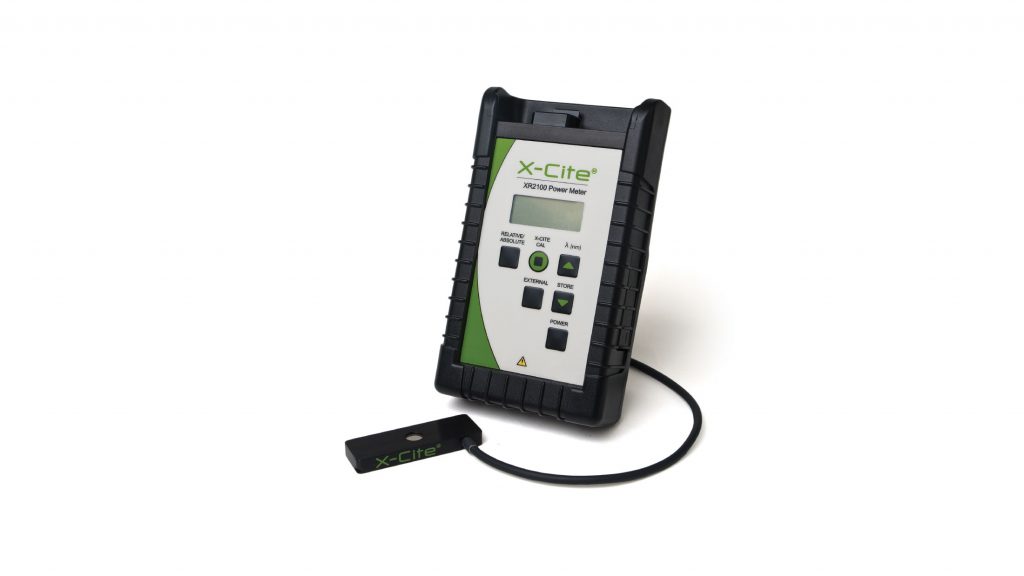 Optical Power Measurement System
The X-Cite® Optical Power Measurement System is designed for measuring optical power in watts at the specimen level that enables consistent and repeatable illumination throughout research experiments, and also assist in equipment set-up and troubleshooting. The system includes the X-Cite XP750 sensor which has a low, sleek profile that fits on the microscope stage and offers the versatility of measuring power output from an X-Cite microscope illuminator or any other epi-fluorescence light source. By fitting a wide dynamic range into a compact sensor, we have made it easier than ever to obtain this critical information.
Properties
Broad Dynamic Range
Calibrated for use at any wavelength between 320nm and 750nm, X-Cite XP750 is compatible with a full range of filters. With sensitivity to power levels from 5µW to 500mW, it is appropriate for applications using both low and high intensity illumination. This makes it suitable for use on standard, confocal, DSU and other microscope configurations.
Versatile and Convenient
X-Cite XP750 measures light right on the microscope stage so it can be used with any epi-fluorescence light source including: HBO / mercury, metal halide or xenon lamps, lasers and LEDs. With hundreds of wavelength choices, X-Cite XR2100 allows you to define 'favorite wavelengths' to correspond to your most frequently used sources and filters.
Repeatable Results
By measuring and recording power output in absolute units (watts) with X-Cite, illumination levels used in an experiment can always be repeated, no matter how light sources, light guides, filters and other optical components change over time. This unique capability is critical for reducing post-experiment image processing time; making accurate, quantitative image comparisons; and compiling complete, experiment documentation.
Specifications
Be the first to get all the information about new products in our range and find out the latest research results in microscopy in our free newsletter.