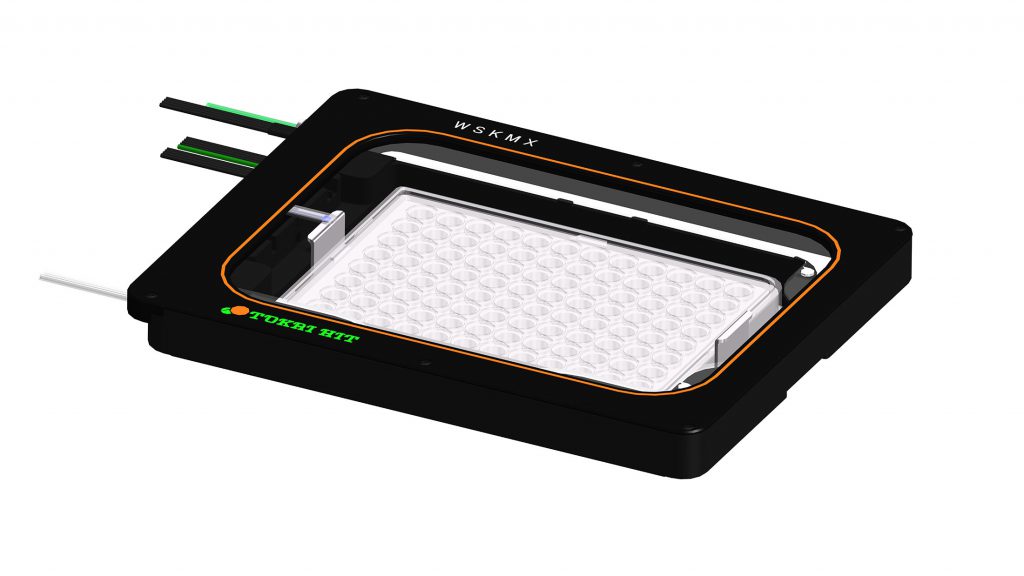 STX Series (Standard model)
Happiness for the cells and Success for users. 22 years technology into STX. To support successful cell culturing with new features. "STX" is our answer to the optimized incubating environment.
Properties
Selectable cell culturing mode

Incubation Modes : select from 3 Modes (Quick Mode, Feedback Mode, Manual Mode) serves the needs from beginners to experts. Enable to choose the most appropriate mode for the particular experiment.
Advanced Quick Mode

The system have multi-heating parameter patterns to keep the sample close to 37.0 ℃ automatically by selecting chamber model, room temperature range(20-22C, 23-27C, 28C) and vessels use.
Sample Feedback Mode
Temperature Control by Feedback

Sterilized temperature sensor makes it easy to measure the Temp. of culture media. The controller regulate the heater based on the sensor signal to keep it at the intended temp. This is more accurate temp. management regulation.
Tokai Hit's Heating Quality

Tokai Hit's original top heater is proven to distribute Temp. evenly within the chamber, regardless of the type of vessels.
Screen Capture and image transfer

programming to transfers Images to smartphones and tablets. You can see the image from home in at late evening possible.
Programmable Control

The system includes the software to program Temp. and CO2/O2 (CO2 and O2 control is possible with specific controller) as standard. With this function allows to expand the experiment field.
Simple Operation & Setting

GUI will assist to visualize the preparation to setting.
For all users, lead your cell culture to success.
10 minutes setup

The system is Simplified Designed. It can operate to maintain cell culture by connecting minimum 4 cables.
* cut the time used for setting up the machine.
Tempered Glass

Now our Clear Glass Heater uses tempered glass. Minimizes the risk of glass breakage to the max.
ONE-SHOT fixing

Magnetic attachments are more stable and easy to attach to the chamber and innovated a mechanism to prevent vessel damage caused by an interference from the object lenses.
Wreck Proof Lenses Heater Cord

The plug will automatically come off when the cord gets tangled in the objective revolver or pulled by certain tension. The plug could be locked on too, if demanded.
Specifications
Be the first to get all the information about new products in our range and find out the latest research results in microscopy in our free newsletter.